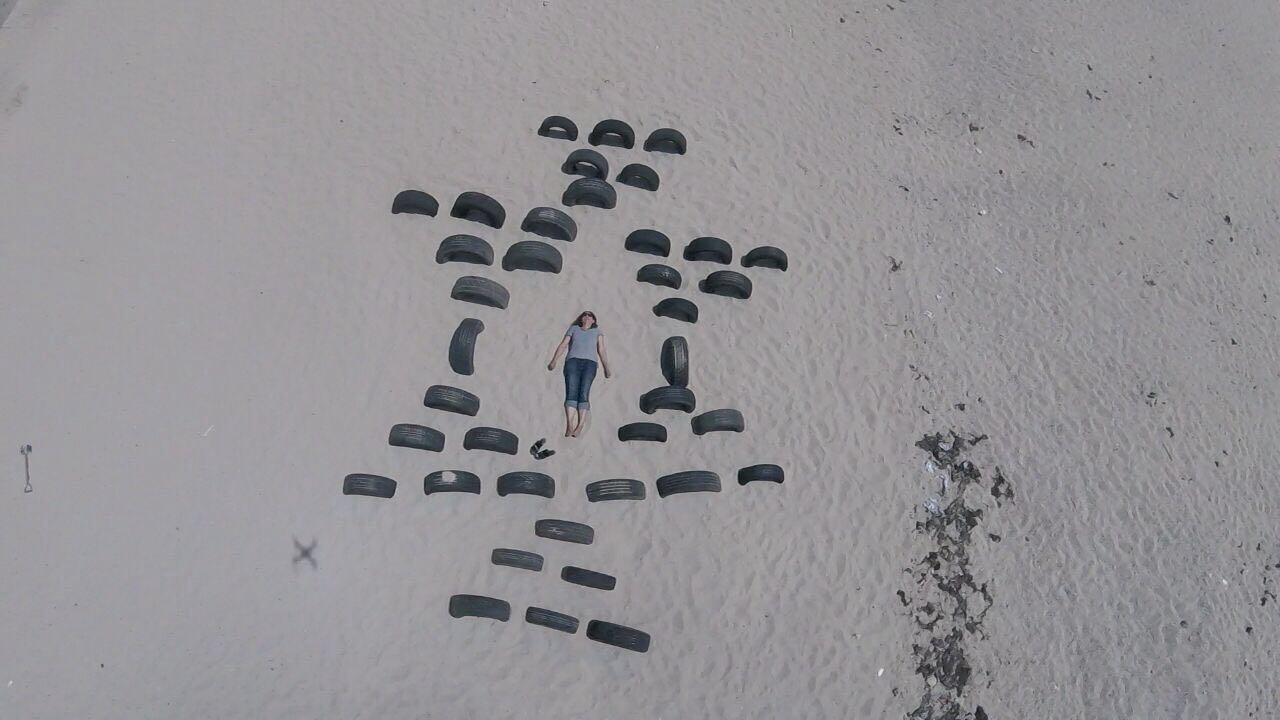 Rooted Mobility, 2016
Memories, fading; 1996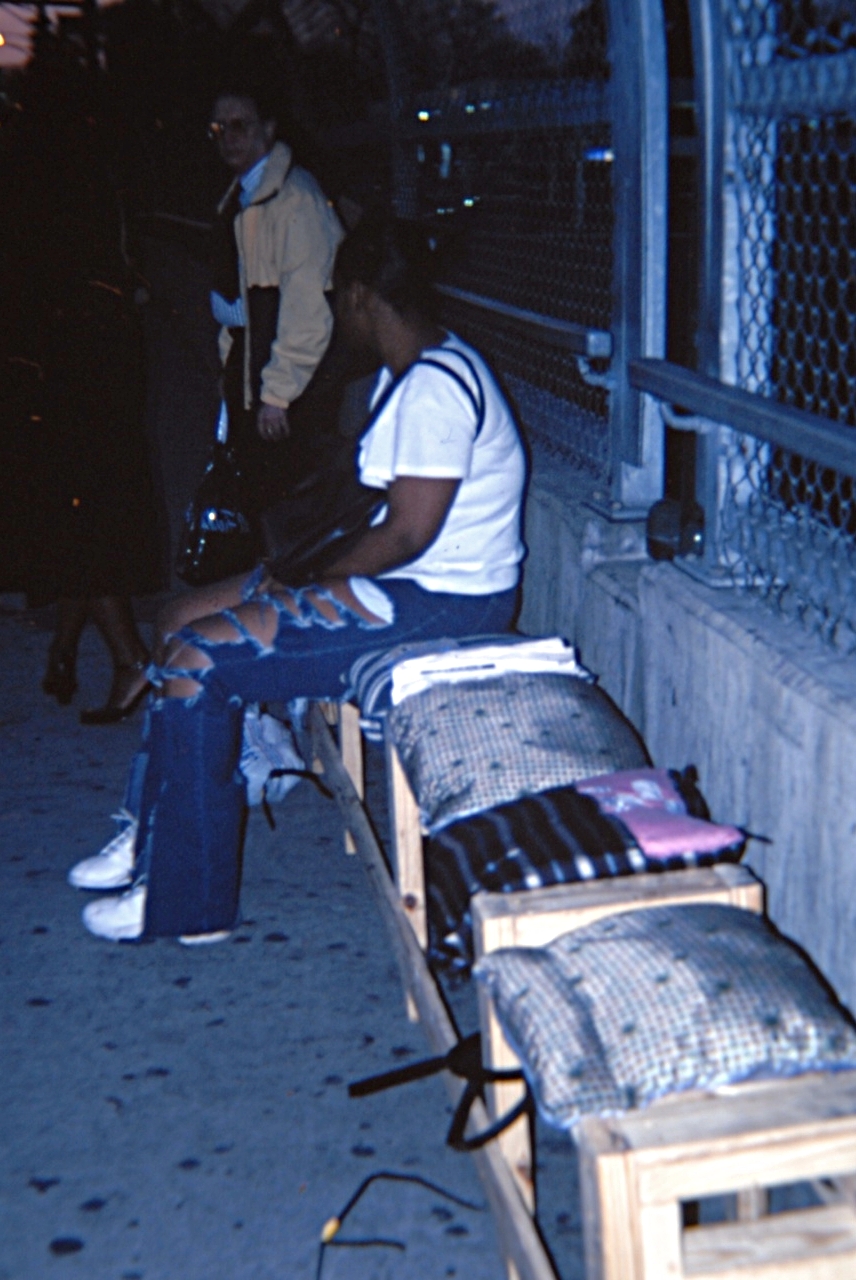 Chicago Bench, 2002
A walk in the woods, 2002, detail of a series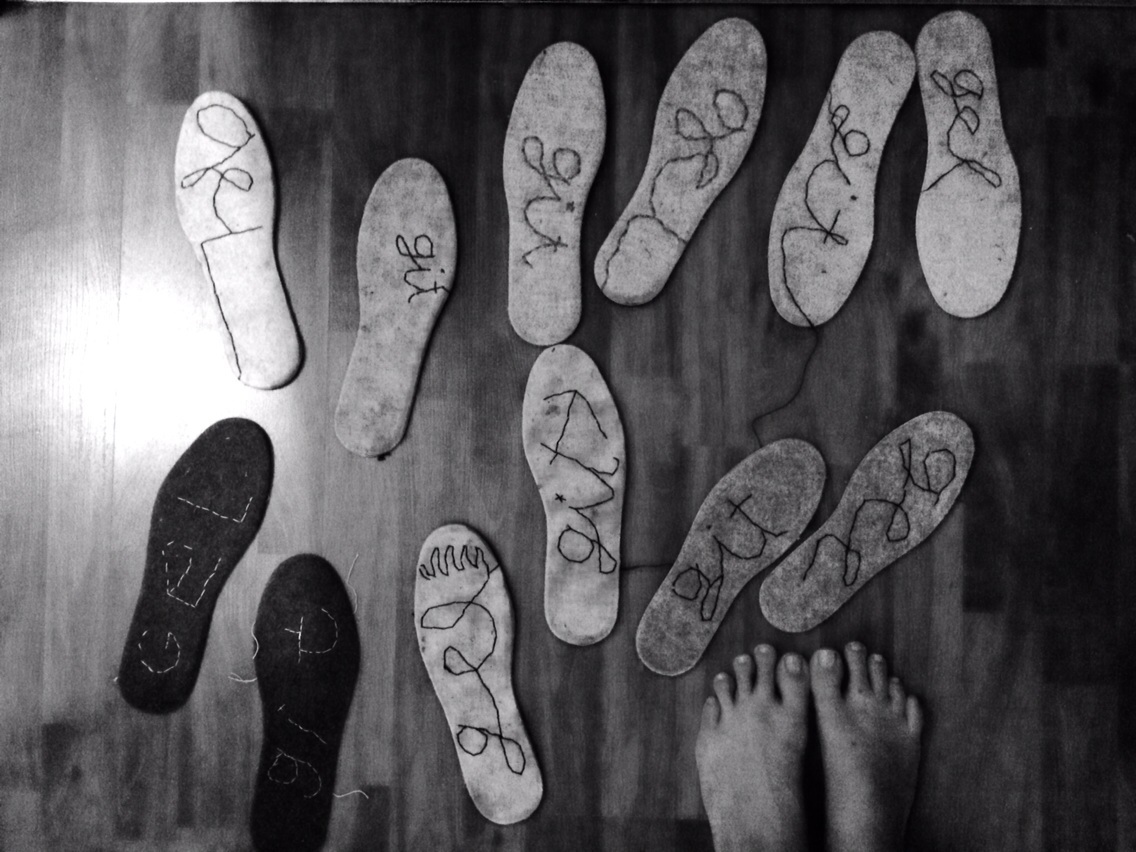 Gel-gitler, 2016
Book without words, 2002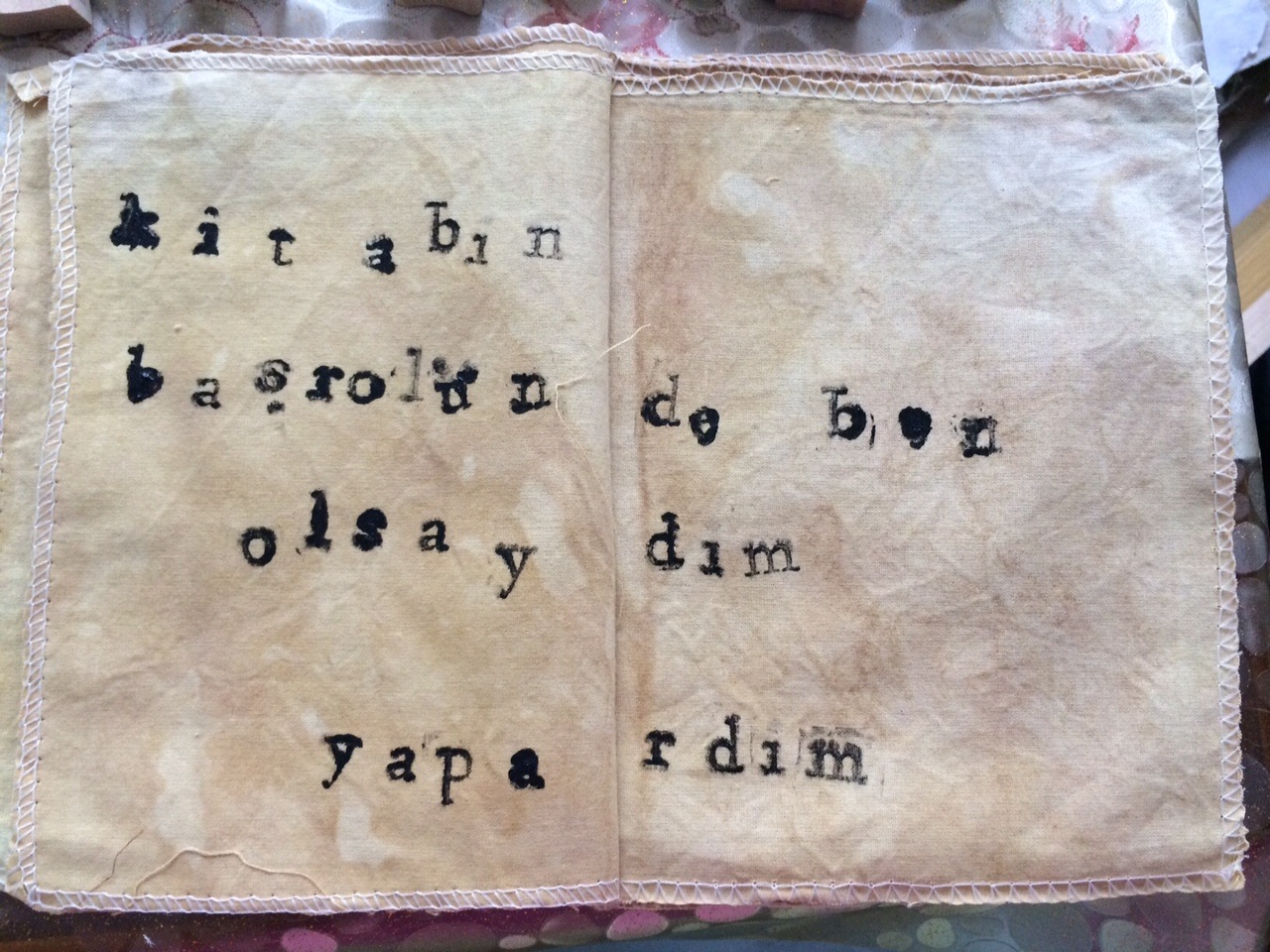 Kitabin basrolunde, 2014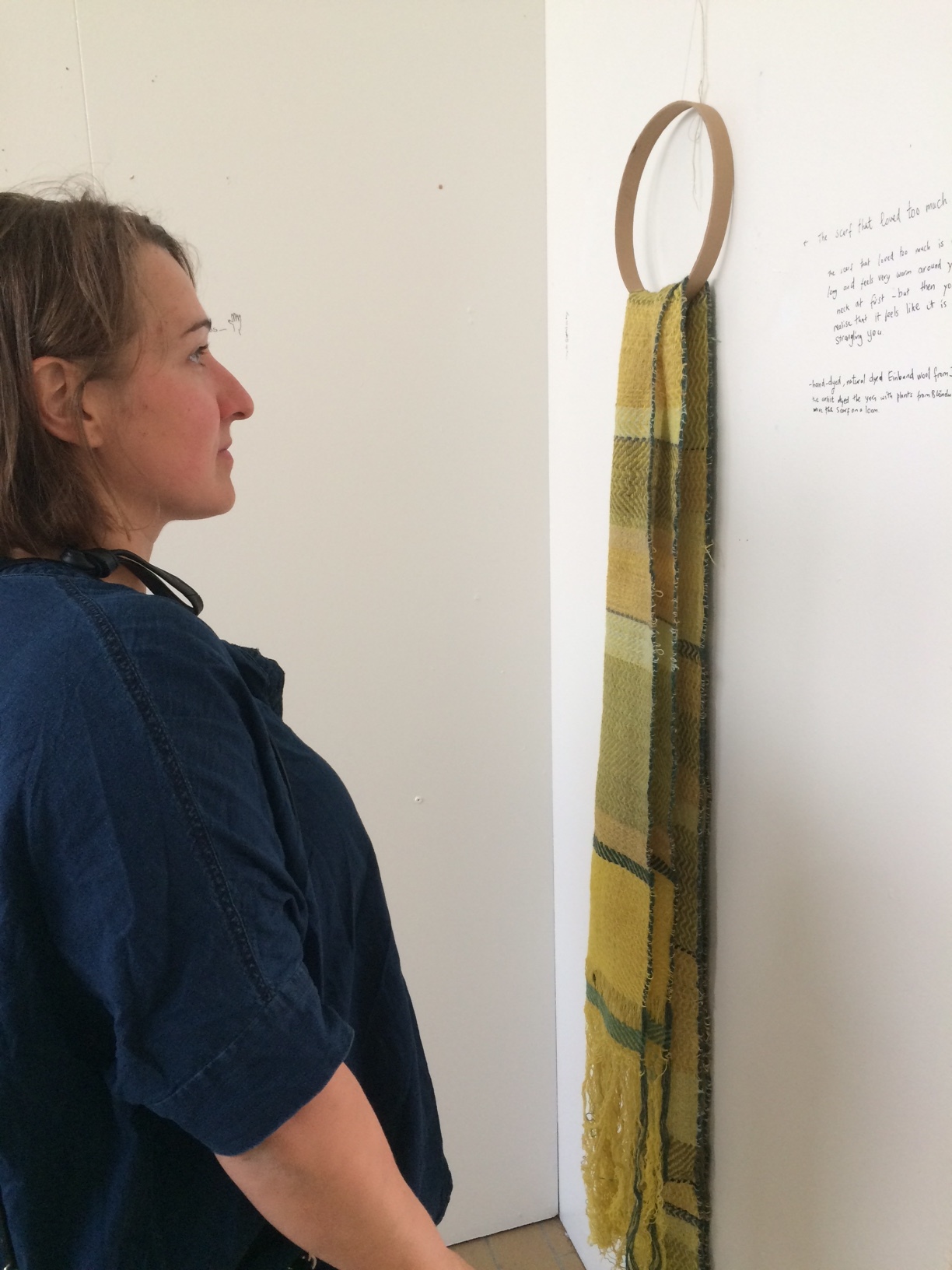 the scarf that loved too much, 2016
Photograph, Illusions, 2017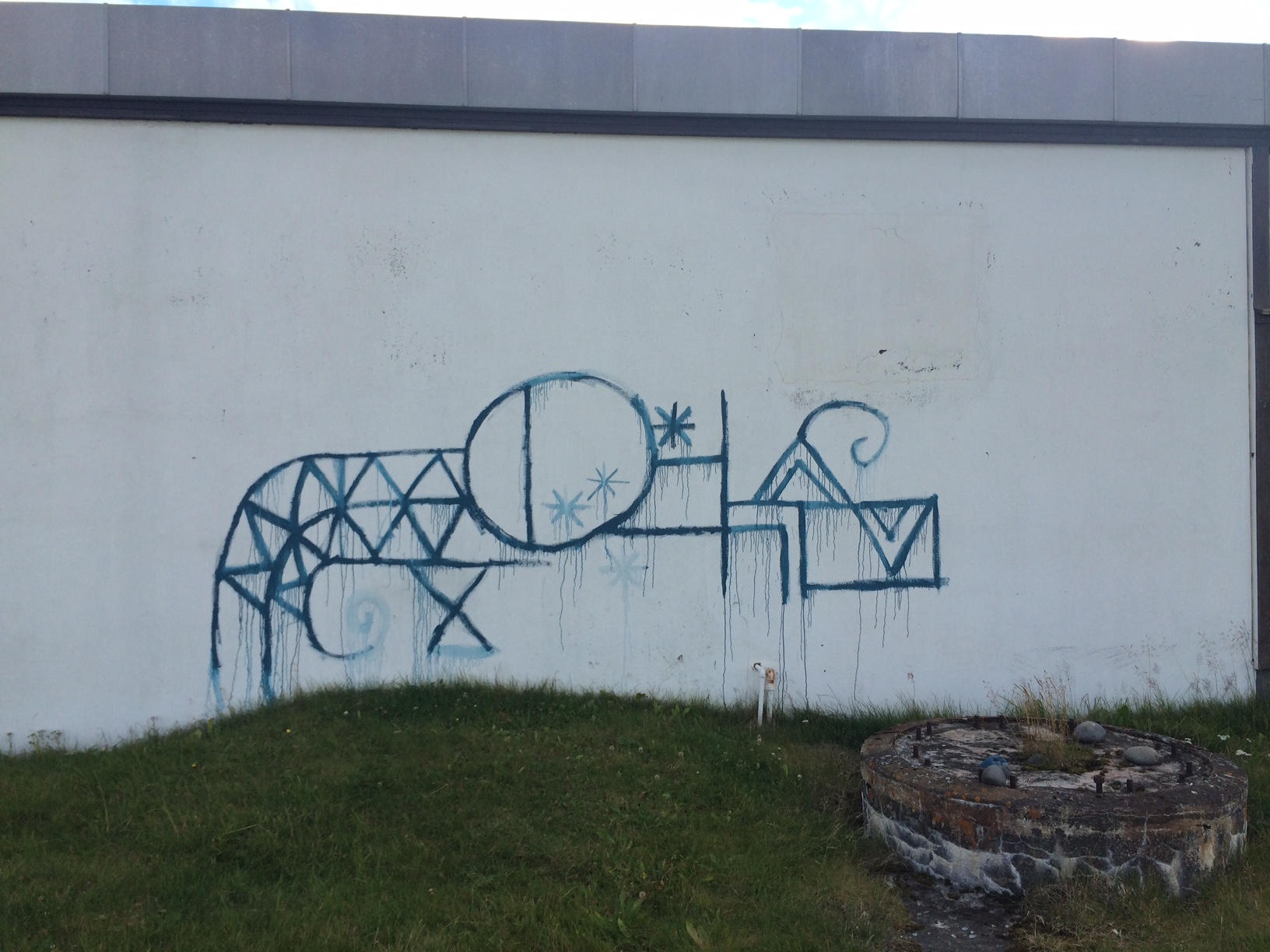 Mural, Iceland, 2016 (side 1)
Denial, 2017
Disembodied Domesticity, 2002
Dancing feet, stay
Bread diaries, 2000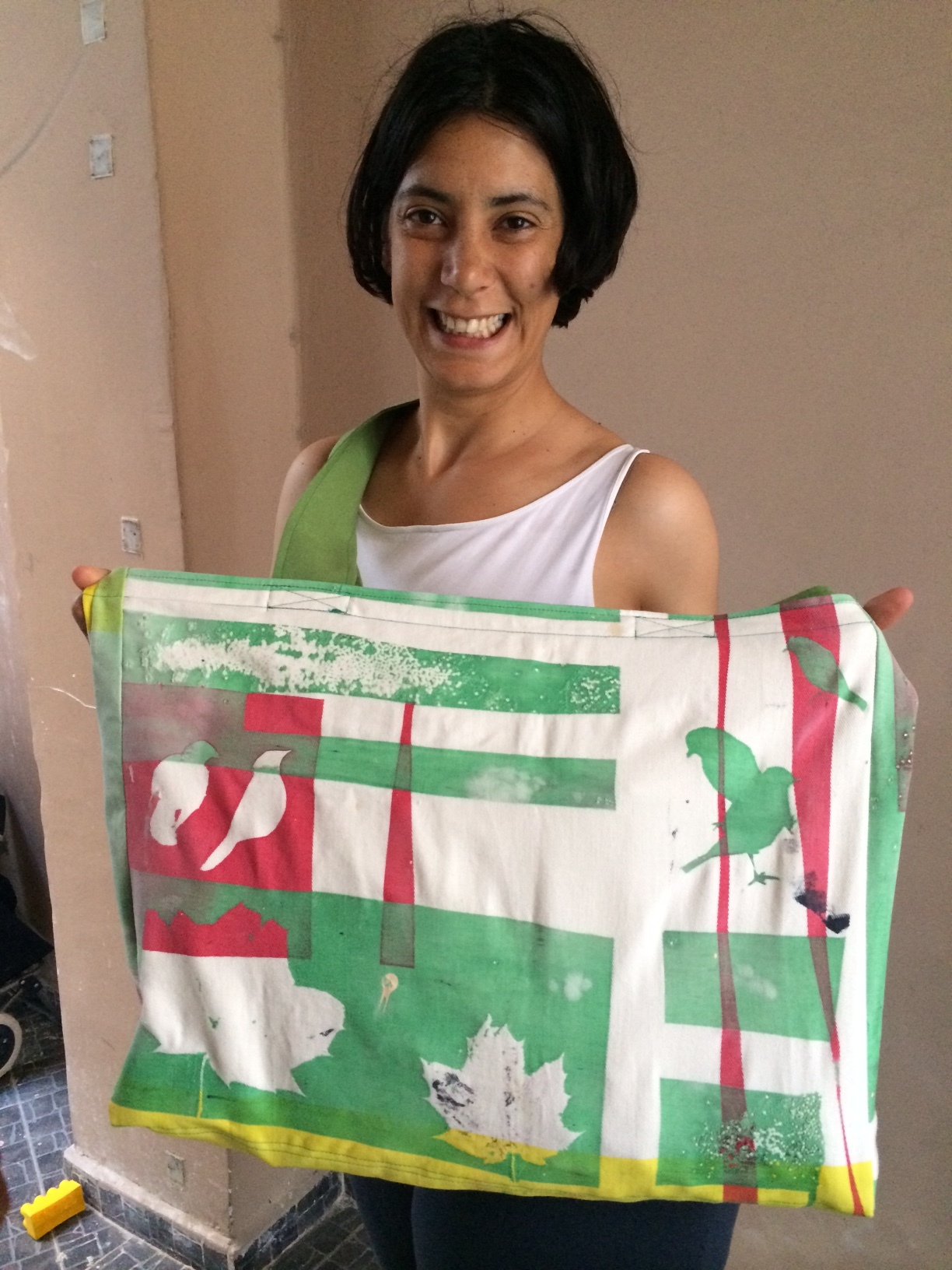 Bowl, 2010
Ceramics, 1998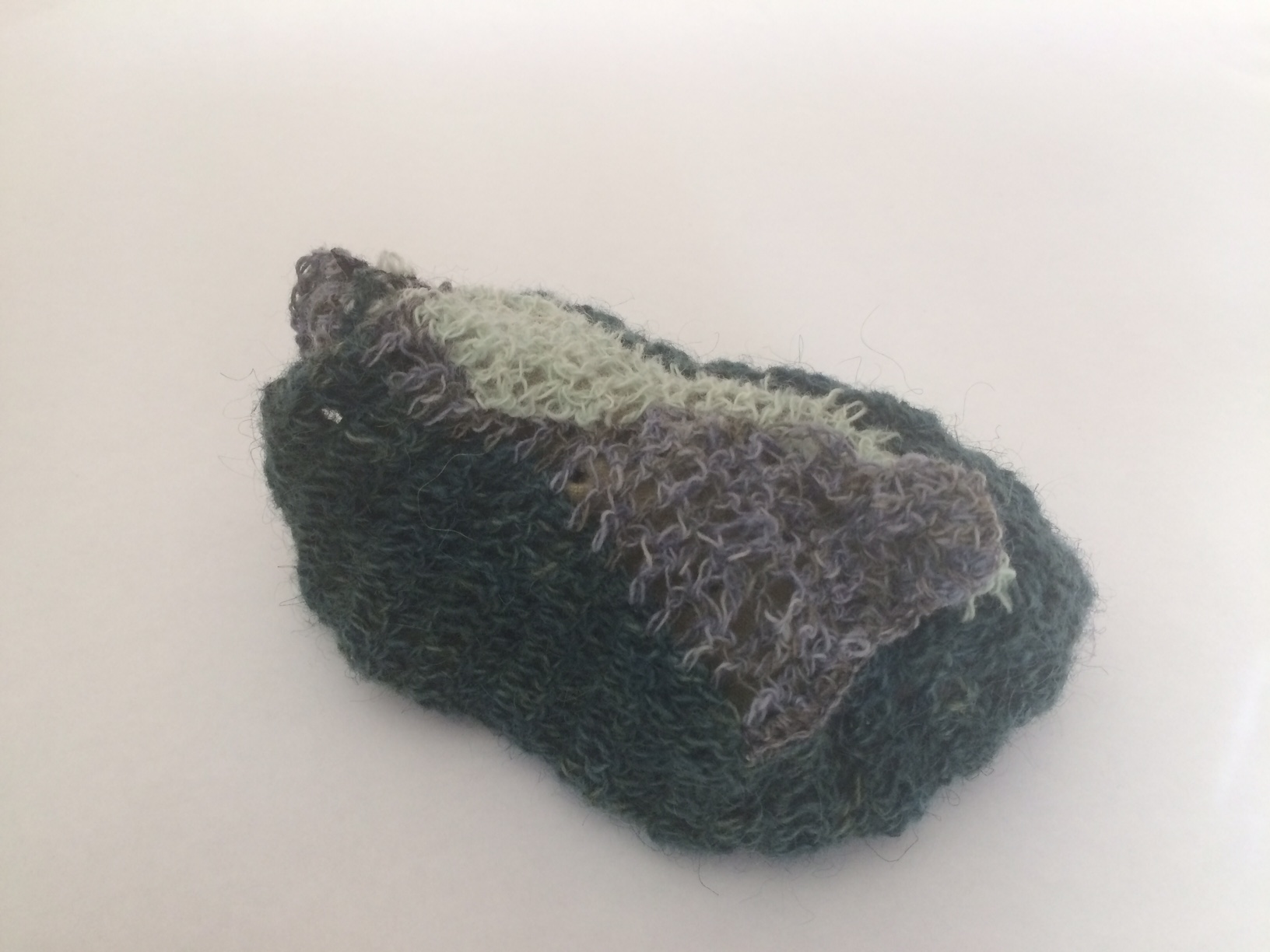 "We come here for you, though it is difficult for us" grafitti on Failaka Island
Blue Room
Travel Scroll, Iceland 2017
love and chocolates, the breakup
Ecoprint scarves...
Ecoprints, Antioch 1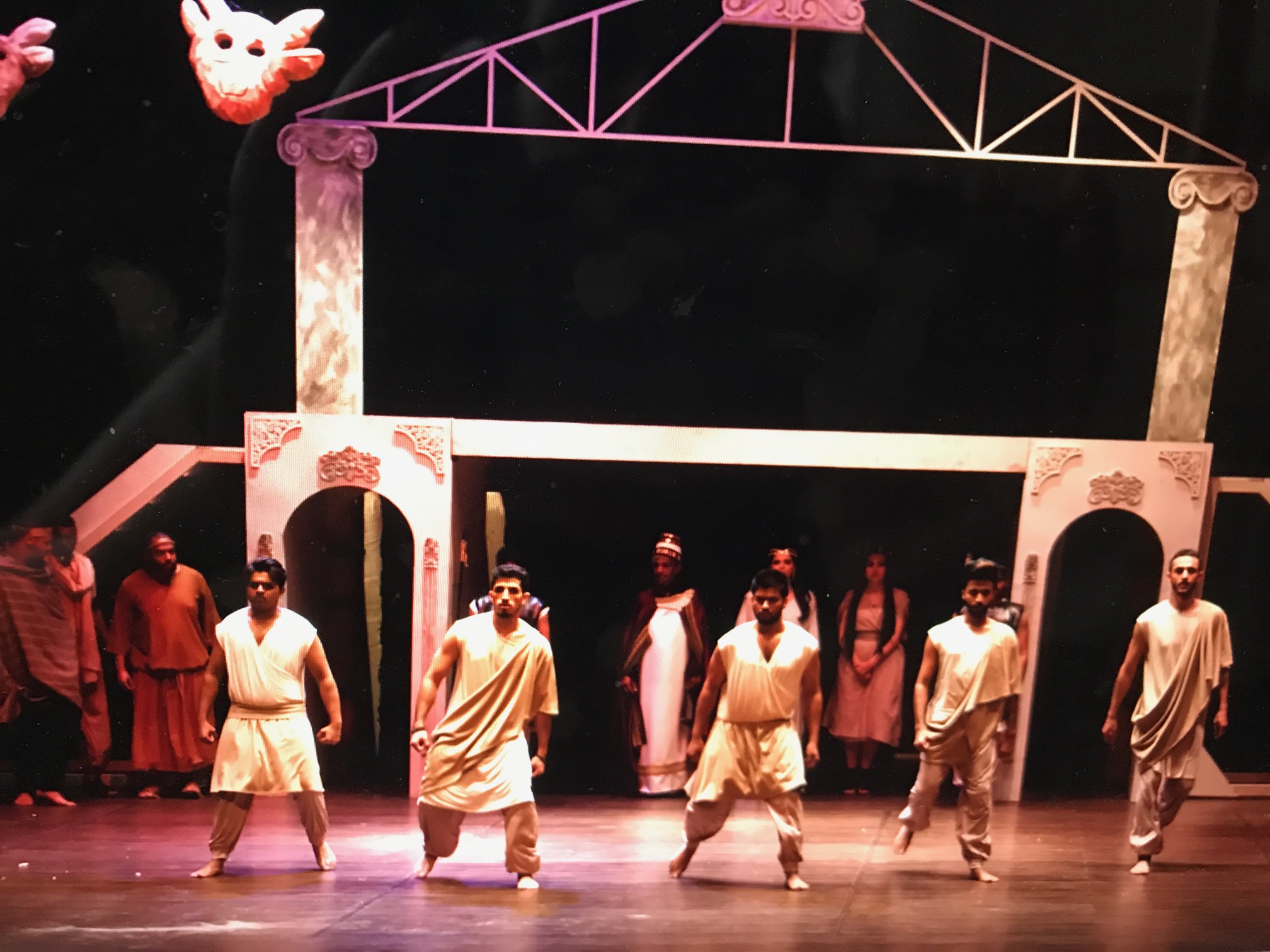 Ikara, Ikarus / Taqa Productions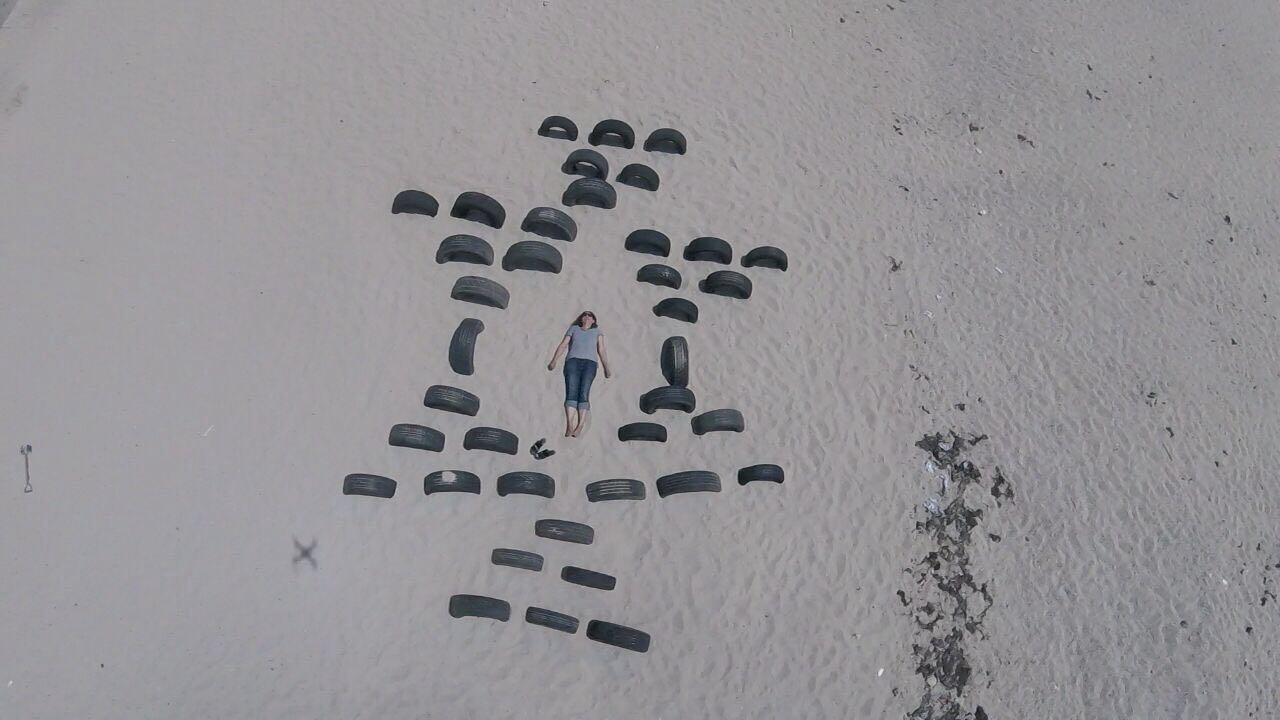 Rooted Mobility, 2016
The composition of the tires is of a carpet motif that is seen as in all the lands as far north as Turkey and south as Saudi Arabia - meaning that it must have traveled with nomads. Half-buried-car-tires-in-sand are currently used as boundaries between tents in the desert. This modern day demarcation is ironic because tires themselves are objects of mobility, transcending borders. Thus, the piece is a personal attempt to break through boundaries - and link up my place of origin of Turkey to where I grew up : Kuwait and Saudi Arabia - and make a statement on mobility and borders today. The piece was made during and for the Sadu Art and Design Initiative (SADI) Program that I curated and ran for three months with the Sadu House in Kuwait (www.alsadu.org)
Memories, fading; 1996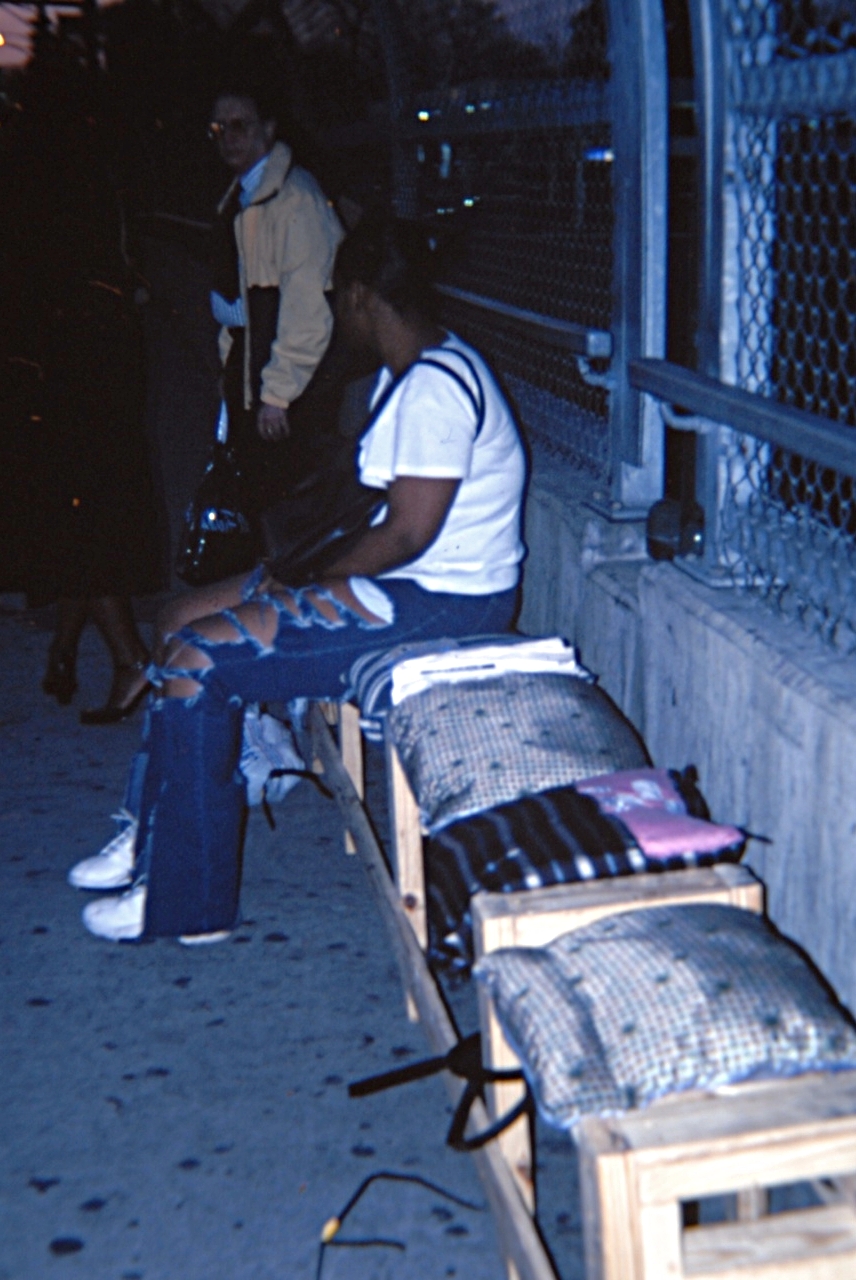 Chicago Bench, 2002
The bench was site specific and placed in a bus-stop that is above a highway in Chicago.The particular bus-stop was one in which different races waited, but hardly interacted (2002).The bus-stop was extra windy as it is up so high. Being above a highway, it also felt very alienating. The handmade pillows, and hand-constructed bench was my attempt of creating a warm feeling and conversation piece for all who waited at that bus-stop.
A walk in the woods, 2002, detail of a series
The work is an experimental sketch to illustrate a walk in imaginary woods. I did not grow up near woods, and the found image is also quite dated and a stereotypical illustration of the time period in which it was illustrated. The walk in the woods was an imaginary journey into this place and time. The documented piece is part of a larger group of similar images and footprints, and part of a theme in my work that later turned into documenting walks and journeys. Growing up, reading books from other places, plant names were fictitious to me. It was an abstract botanical garden of willow trees and daffodils. The footprint is an entry into this 'dreamland,' but created in a universal way.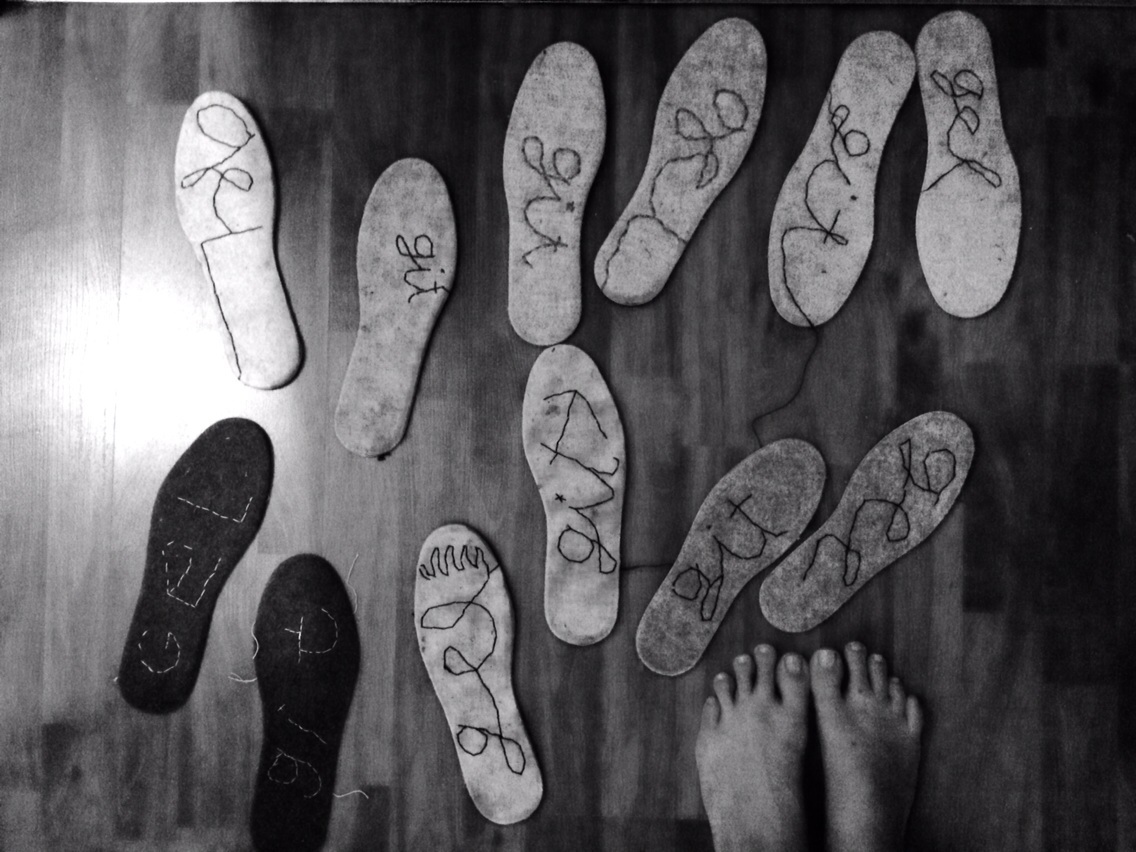 Gel-gitler, 2016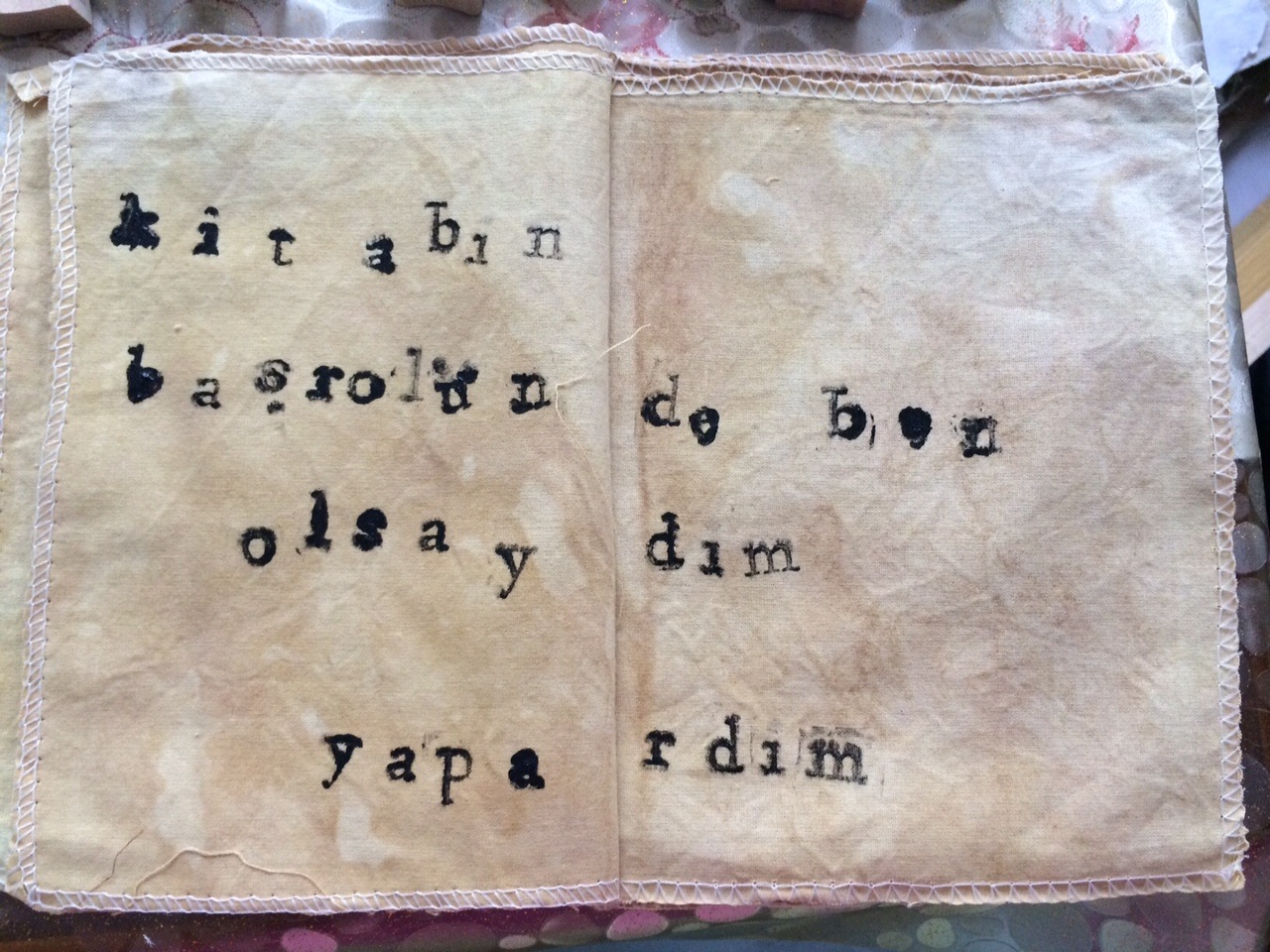 Kitabin basrolunde, 2014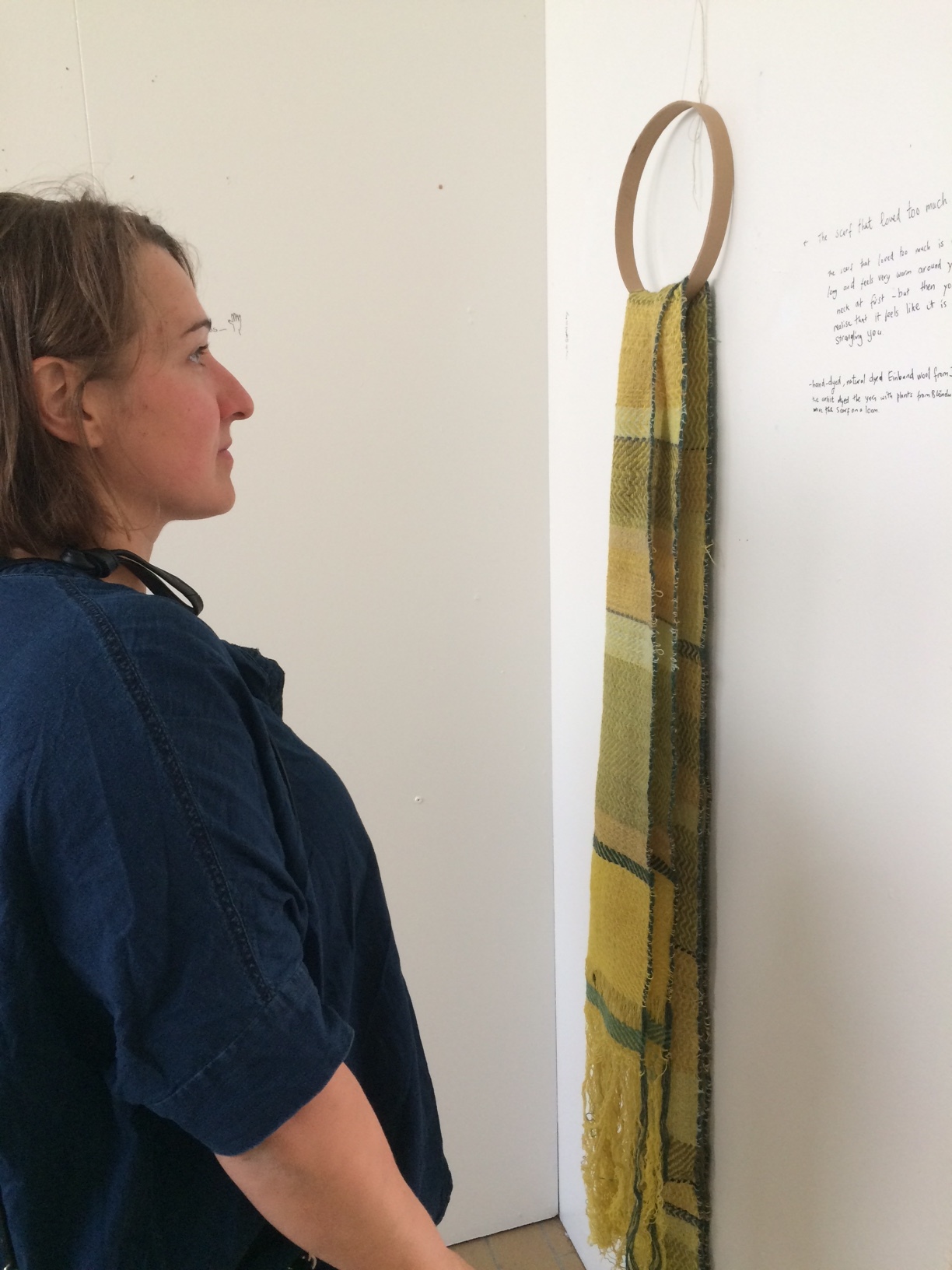 the scarf that loved too much, 2016
This is one of the works that I call "conceptual craft." It is about relationships and the conflicting messages we get about how to show / not show affection. The scarf is an extra meter longer than it should be, thus feeling extra warm and cosy when wrapped around one's neck. After a while, though, because of the same quality, it starts to feel suffocating. It is a symbol for showing "too much love," something that is warned against in 'love advice.'At the same time, there are still traditional expectations of women knitting scarves for their male partners and being very giving. The piece plays upon these seemingly contradictory messages. It is meant to also be available to be performed, as clients would rent out the piece to wear. The way it is displayed above is on an embroidery hoop that resembles both a wedding ring and a noose. I dyed the yarn of the scarf with natural dyes from plants I collected in Iceland, and hand-wove it myself. It came about while meditating on ideas of 'love' while at a textile arts residency in Iceland, where 'knitting sweaters for boyfriends' - a very conservative idea of love, came up. The scarf is displayed on an embroidery hoop, that resembles both a wedding ring and a noose.
Photograph, Illusions, 2017
The photograph is taken in a transforming industrial part of the city. It is just next to the Print Room, where I was teaching workshops at the time, and was part of the Print Room Collective.The reflections and patterns struck me as both geometrical and patterned, as well as lyrical and poetic.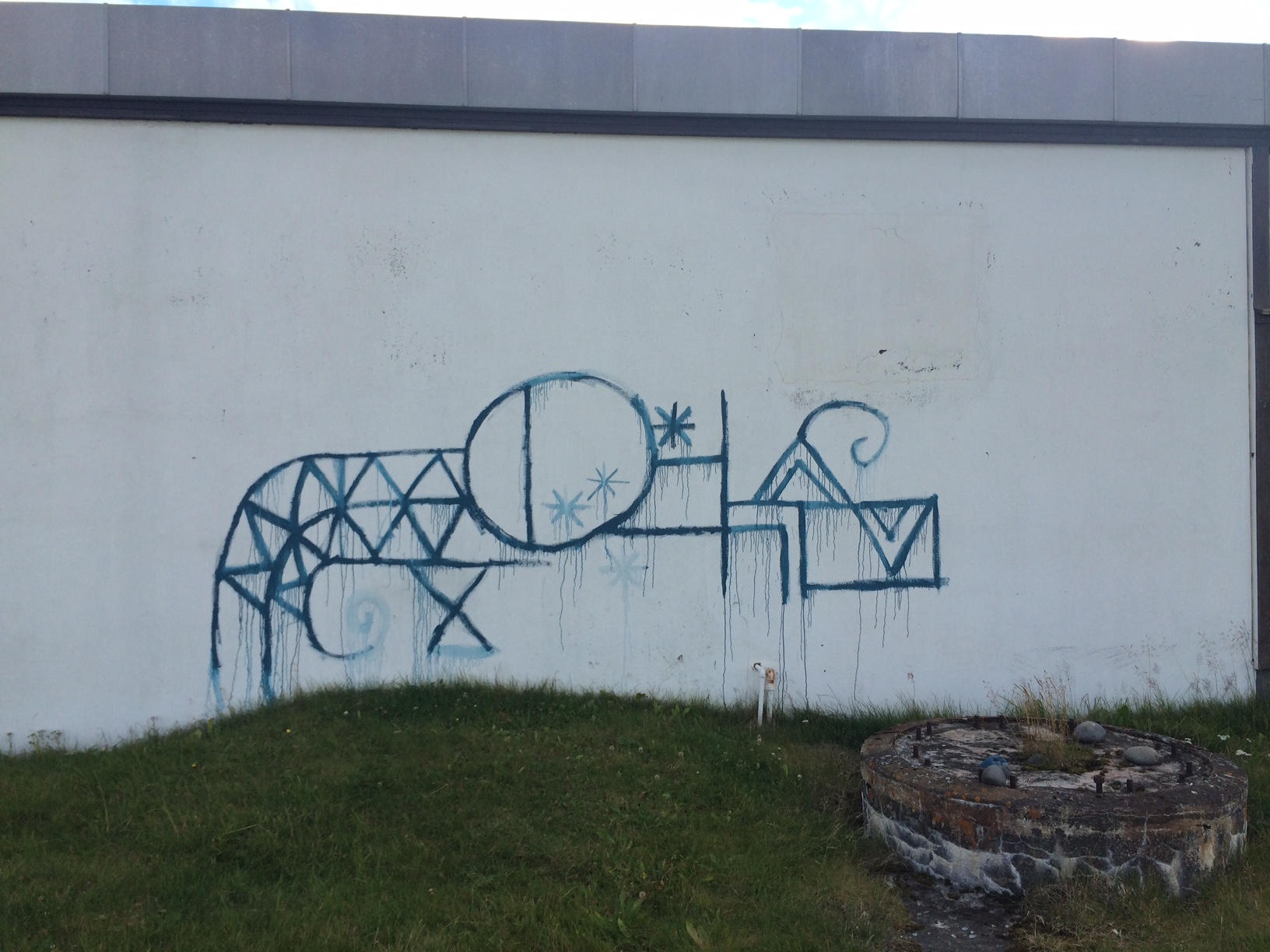 Mural, Iceland, 2016 (side 1)
The mural is one of two that I painted in Blonduos, Iceland- at the Textile Arts Residency. What struck me about Iceland was how pattern and motifs are so rare in comparison to where I live in the Middle East... Because there are very few high buildings, the sky is completely visible - and the patterning becomes the clouds. The mural was a way of introducing pattern in the location I was at.
Denial, 2017
The work is about: denial, ignoring, protest, power. The work is documented from the side of the person/action being ignored. However, the meaning of the work is both ways: it can also be the other way around where the viewer sits with the audience and participates in the ignoring.
Disembodied Domesticity, 2002
Installation of different body parts in plaster. It is about gender roles, and the female being metaphorically locked in the space of a kitchen. The plastered face of the body parts is placed outside the kitchen window, looking in (not pictured here). It is about the disembodying feeling of mundane housework. The element of water in different states also exists in the work. Water runs from a faucet, is steam from a boiling kettle on a stove, and is also ice on the counter of the kitchen. The water is the only element of possible change in an otherwise static and stuck piece.
Dancing feet, stay
Bread diaries, 2000
This was a loaf of bread with pieces of my diary torn up and baked in it. It is about the daily obsession with diary-writing, that actually takes time from living life itself - and whether to reflect, or to live - and how to do both in balance (ref. Nausea, Jean Paul Sartre). It was presented to an art class where one student ate all of his piece, another picked out the paper and tried to read every word, one compared it to a church ritual, and another asked about the ingredients as she has food limitations, and another also found the male professor's request that I bake fresh bread everyday to the class - to be sexist.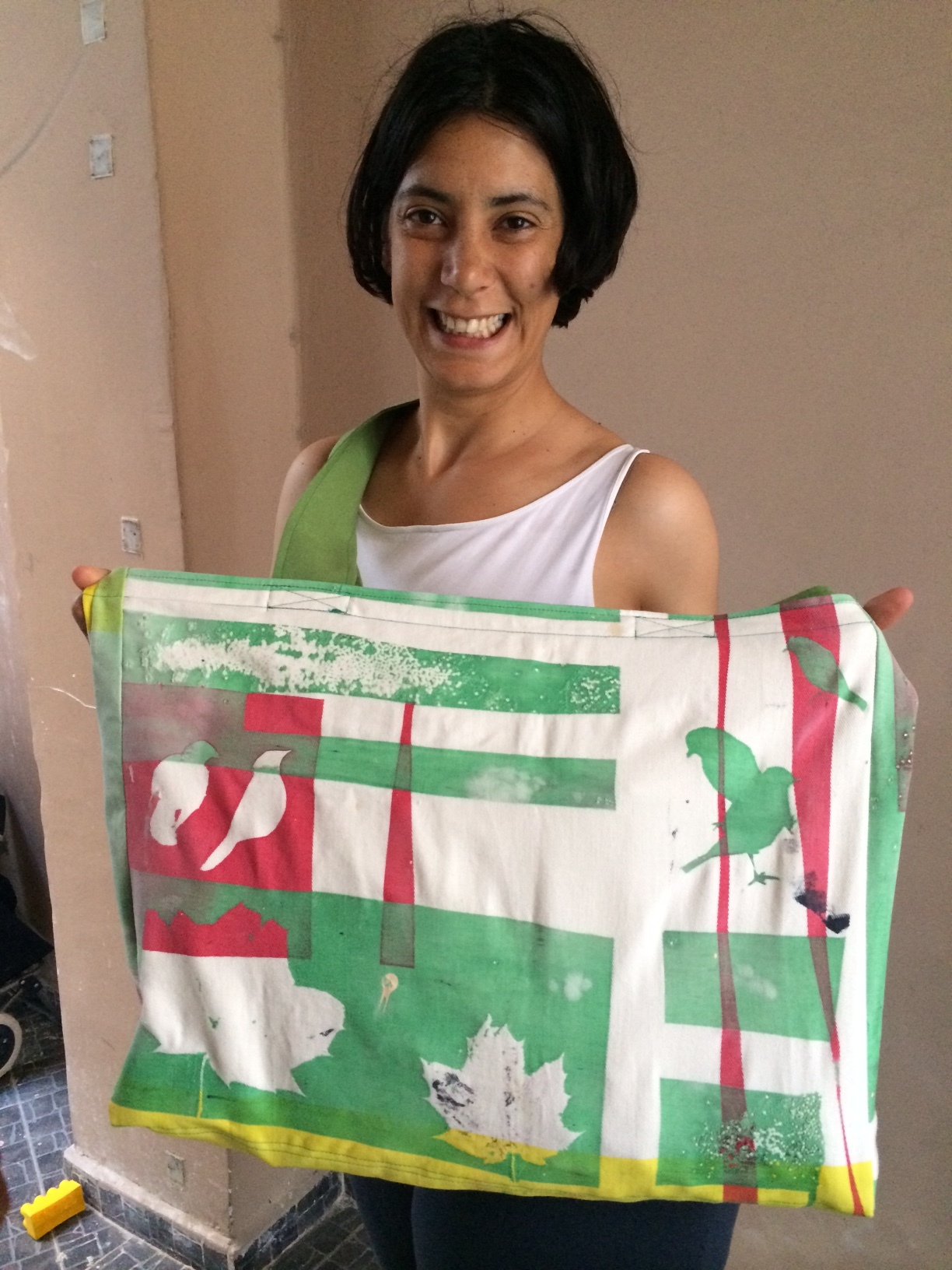 Bowl, 2010
Ceramics, 1998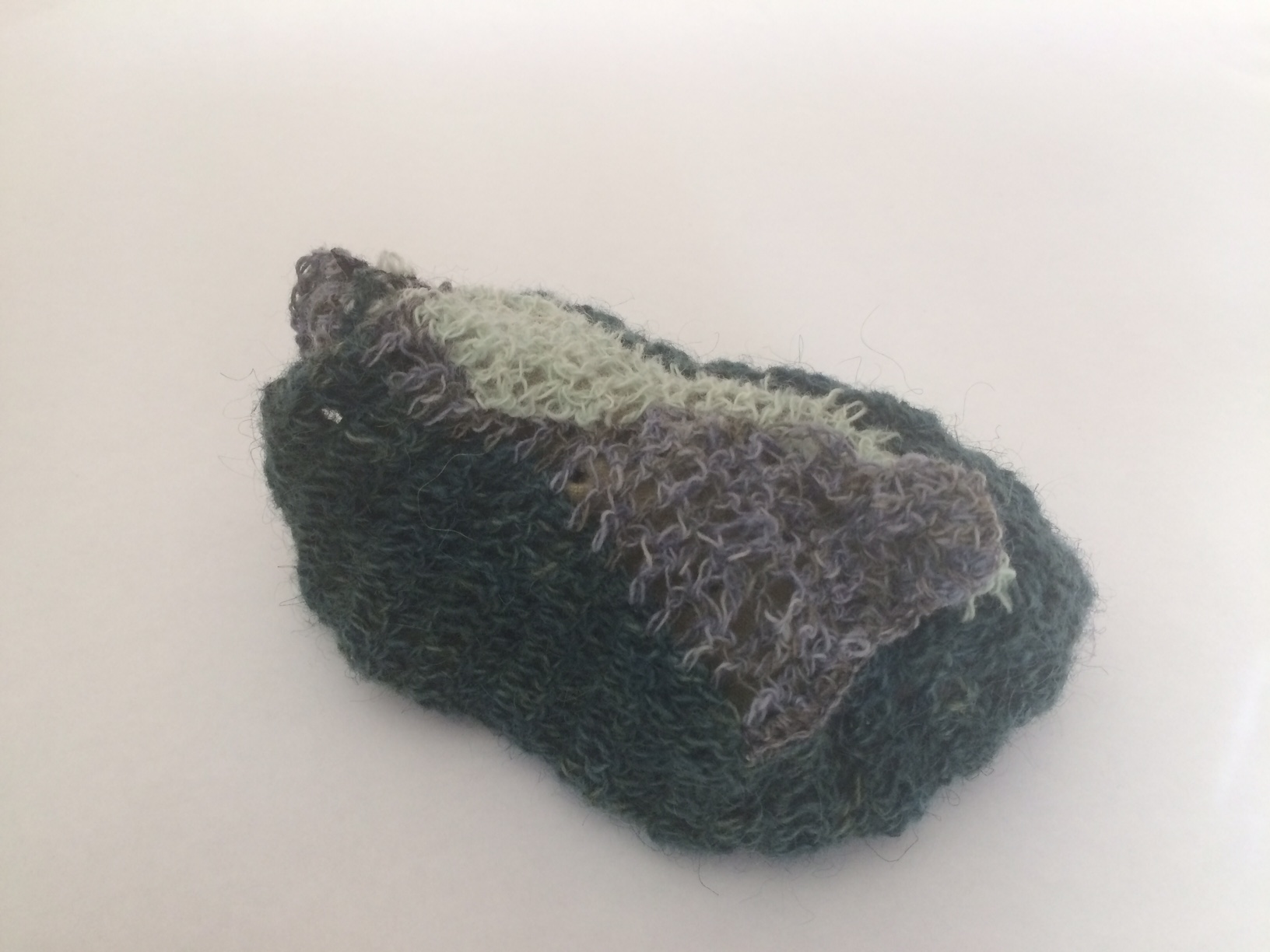 "We come here for you, though it is difficult for us" grafitti on Failaka Island
Travel Scroll, Iceland 2017
love and chocolates, the breakup
Ecoprint scarves...
Ecoprints, Antioch 1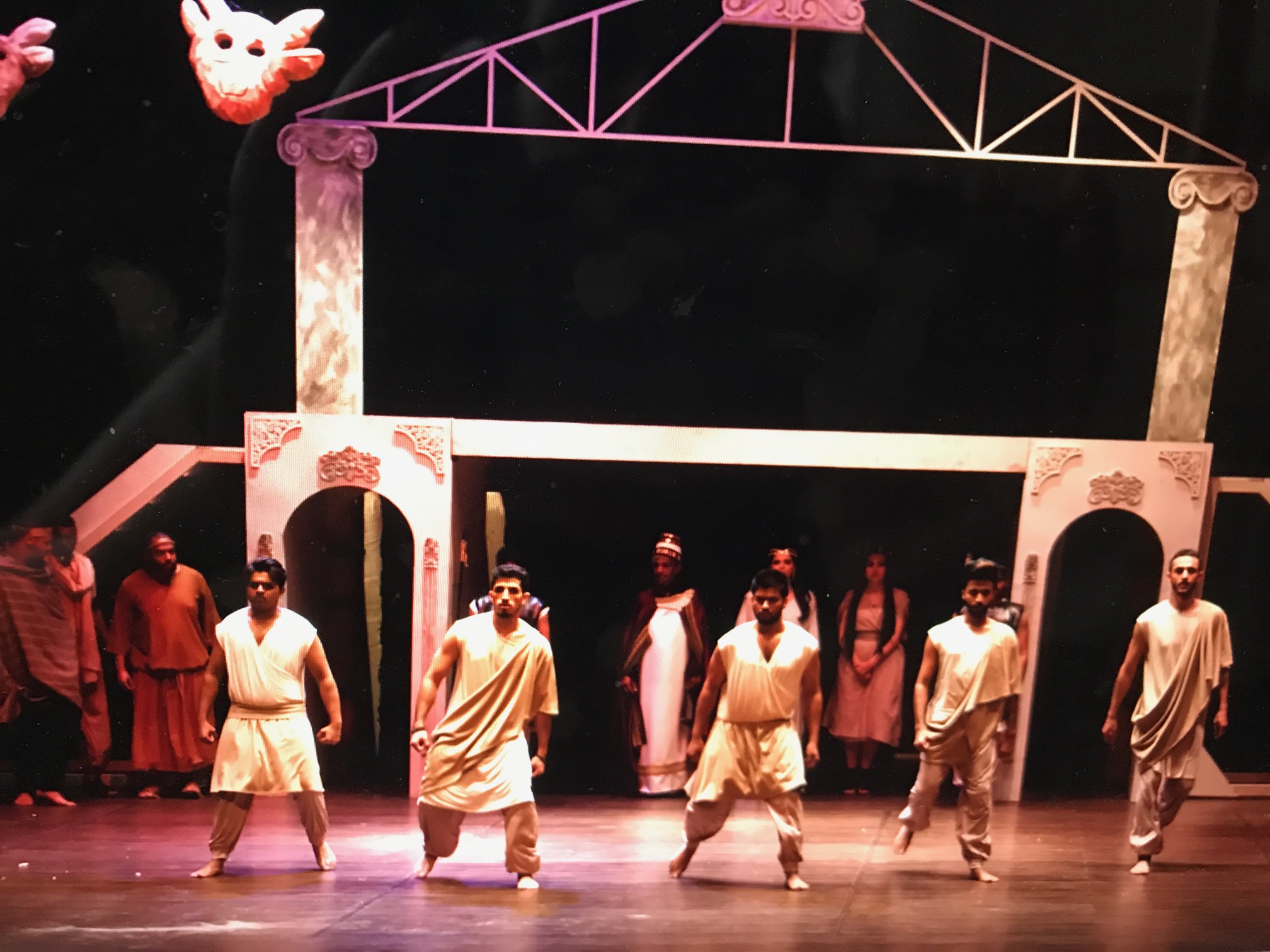 Ikara, Ikarus / Taqa Productions
1
2
3
4
5
6
7
8
9
10
11
12
13
14
15
16
17
18
19
20
21
22
23
24
25
26
27
28
29
30
31
32
·
·
·
·
·
·
·
·
·
·
·
·
·
·
·
·
·
·
·
·
·
·
·
·
·
·
·
·
·
·
·
·